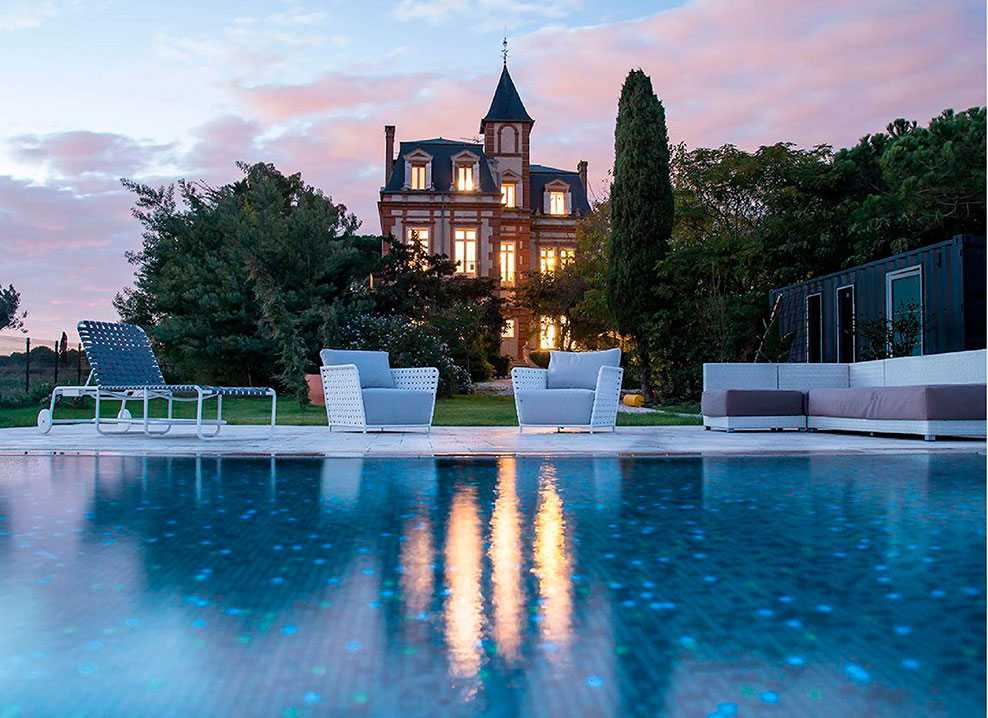 The tiled pool
Discover our tiled pools, for a unique water colour!
Tiles for a personalised pool
Do you dream of having a custom pool at home? Opt for a tiled pool and discover all the options for personalisation. Firstly, tiles are equally suitable for indoor and outdoor pools.
Their first great quality is their aesthetics. With an undeniable elegance and chic, tiling allows you to have a pool that has impeccable visual finish. Choose your favourite colour from a beautiful palette of azure blues or soft water greens; you can also opt for a lovely warm grey, or create endless custom designs.
An innovative process
Thanks to its innovative process, and a partnership with the Signapool company, Mondial Piscine is able to produce tiled pools that are of excellent quality and durability.
The Signapool waterproofing fabric allows you to install a tiled finish on top of the Mondial Piscine panels. It resists cracks in concrete, separates the tiling from the structure and provides a coating that has a minimum thickness.
The system is easy to install, and is perfectly suited to our construction process.
A tiled pool: ensuring strength
Tiling is one of the longest lasting pool liners. Tiling that is strong and easy to maintain guarantees a long-lasting pool, as long as it is well installed and well waterproofed. Tiling provides great resistance, especially ceramic tiles, for real security in terms of how long it will last. It is very resistant to temperature changes and is easy to maintain.
It is really easy to keep your tiling looking like new: just brush the surface from time to time to ensure maximum cleanliness, and don't forget about the joints. In order to ensure that the installation is optimal, it is advisable to use a professional, and to waterproof the whole assembly with suitable products.
Whether you choose ceramic or mosaic tiles, your pool will give a unique water colour as well as an aesthetic finish. There are a lot of colours and shapes available on the market today.
Benefit from the advice of Mondial Piscine's experts. Contact their specialists now, and find the ideal pool model that meets your desires and needs.