GB / Spa Saphir : Le spa 5 places de la gamme Luxe

Spa Saphir
Équipé de 35 jets de massage air/eau, le spa Saphir vous offre 4 places assises et 1 place allongée.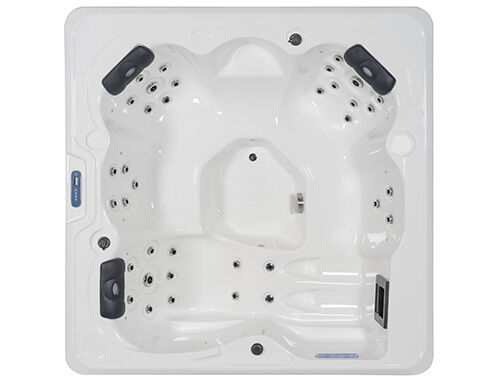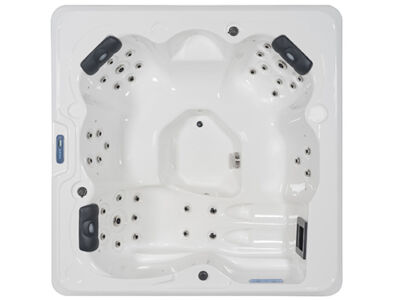 Dimensions
2.1m x 2.1m x 0.9m
Skirt color

Equipment :
Let yourself be rested by the benefits of the sound of flowing water thanks to the Illuminated Waterfall option.
The cover helps to secure your spa and maintain the temperature of your water.
This option allows you to place your glasses on the edges of your spa while adding an aesthetic touch.
The LEDs provide energy and soften the atmosphere.
Choose the orientation of the jets to find the perfect massage to soothe body and mind.
Equipment not available on this model
Equipment not available on this model
Equipment not available on this model
Equipment not available on this model
Equipment not available on this model
GB / 5 POSTES DE MASSAGE :
4 assis et 1 allongé
Équipements
3 appuis-têtes en EVA coloris Gris anthracite
1 cascade rétro-illuminée
12 leds éclairage exclusif chromothérapie
1 ozonateur Balboa
Couverture isothermique sécurisée Grise
Centrale et panneau de commande Balboa
Écran digital
Coloris
Cuve : Blanc
Habillage jupe extérieure : Panneaux verticaux en lambris composite gris
Socle ABS imputrescible – coloris noir
Fiche détaillée
Taille : 2100 x 2100 x 900 mm
Châssis charpente bois
Contenance 1 100 litres
Poids vide 450 kg / plein 1 550 kg
Places : 5 places dont 1 siège allongé et 4 places assises
Double longueurs de jambes sur la place allongée
35 jets de massage air/eau
1 pompe bi-vitesse de 370/1500W
2 vannes venturi standard
1 filtre moyen (1 cartouche)
Puissance : Mono 220v (Plug&Play 16A)
Réchauffeur 1 x 2 kW
Location of jets