Spa Victoria : le spa 5 places le mieux équipé de la gamme Prestige

Spa Victoria
Équipé de 51 jets de massage air/eau, le spa Victoria offre 3 places assises et 2 places allongées.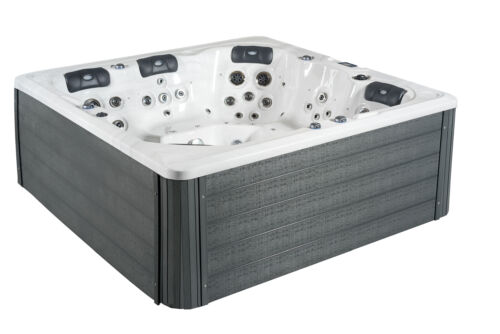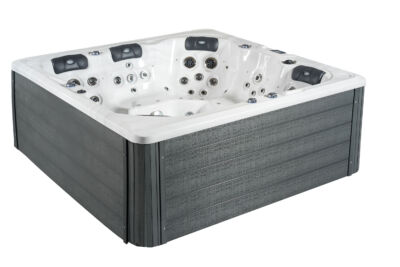 Dimensions
2.3m x 2.3m x 0.95m
Skirt color

Equipment :
Light point placed on the periphery of the spa.
Aromatherapy is the use of aromatic plant extracts (essences and essential oils) for soothing purposes.
Air pump, which injects air bubbles into the aerojets.
Let yourself be rested by the benefits of the sound of flowing water thanks to the Illuminated Waterfall option.
The cover helps to secure your spa and maintain the temperature of your water.
Device for sterilizing and disinfecting spa water.
This option allows you to place your glasses on the edges of your spa while adding an aesthetic touch.
The LEDs provide energy and soften the atmosphere.
Choose the orientation of the jets to find the perfect massage to soothe body and mind.
Placed at the bottom of the spa, you have a choice of 5 colors 3 scrolling modes (fixed, flashing or pastel).
Fitness et relaxation garanties
Équipements
4 appuis-têtes en EVA coloris Gris anthracite
1 cascade rétro-illuminée
14 leds éclairage exclusif chromothérapie
1 ozonateur Balboa
Couverture isothermique sécurisée Grise
Centrale et panneau de commande Balboa
Écran tactile
Blower chauffant 850 W
1 projecteur RGB Submarine
1 système Frog in-line (sans cartouche)
1 By-pass
Aromathérapie
Coloris
Cuve : Blanc marbré
Habillage jupe extérieure : Panneaux horizontaux en lambris composite gris
Socle ABS imputrescible – coloris noir
Fiche détaillée
Taille : 2300 x 2300 x 950 mm
Châssis charpente alu
Contenance 1 800 litres
Poids vide 500 kg / plein 2 300 kg
Places : 5 places dont 2 sièges allongés et 3 places assises
Double longueurs de jambes sur les places allongées
51 jets de massage air/eau
3 jets de circulation (filtration)
14 jets d'air qui fonctionnent avec le Blower chauffant
1 pompe de filtration 60W
2 pompes de massage 2200W
4 vannes venturi premium retro-éclairées
2 filtres moyens (2 cartouches)
Puissance : Mono 220v – Tri 400v
Réchauffeur 1 x 3 kW
Location of jets