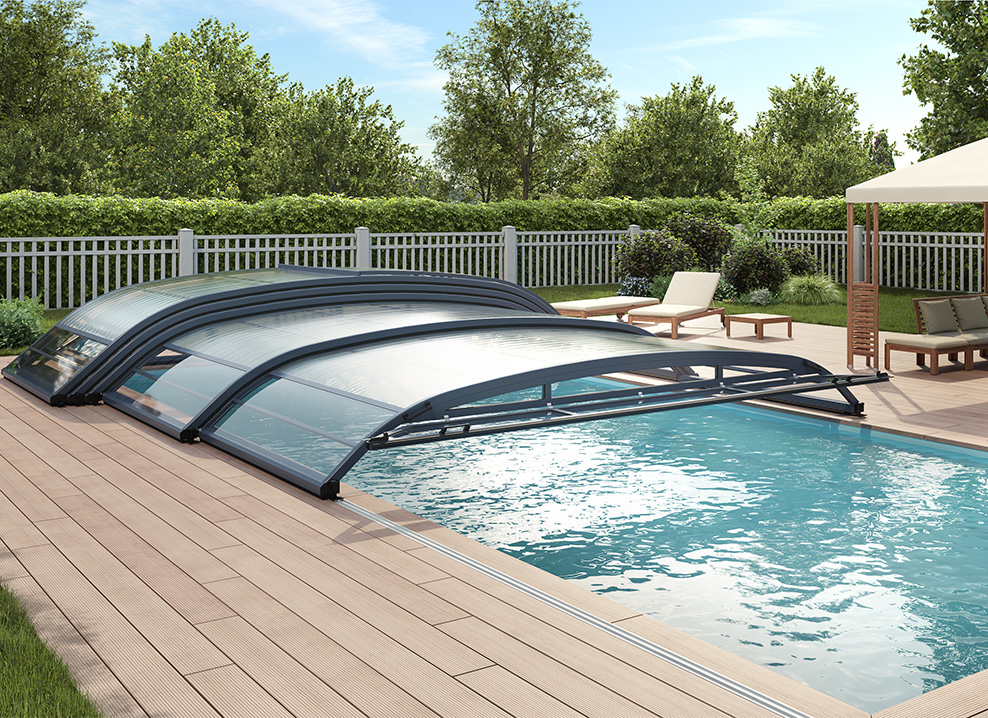 Our enclosed pools | Olympe
With Mondial Piscine enclosures, you can enjoy your pool all year round
Installing a Mondial Piscine pool enclosure or mobile terrace allows you to increase the temperature of your pool water by up to 10°C.
It guarantees that you will be able to use this space for pleasure and leisure on a regular basis, with a quality swim in a heated environment, with no draughts.
Studies show that people swim in their pool up to 3 times more often when they have an enclosure or a mobile terrace.
Depending on your region, you may need to combine it with a heating solution.
Protect your pool
A pool enclosure or a mobile terrace can protect your pool from all the outside dirt. Different models are available, allowing you to choose the structure that is best suited to your environment. It also guarantees warmer water in a natural way, and for free.
Protecting your pool facilitates the chemical stability of the water, as you are not polluting your water with rainwater.
Which means that your budget for cleaning products will be under control!
Secure your pool
Mondial Piscine's pool enclosures and mobile terraces meet all the safety requirements that aim to prevent access to children under 5 years old, with the NFP 90-309 standard.
Guarantee for Mondial Piscine enclosures and terrace:
Insurance guarantees, in addition to the manufacturer's warranty.
Guarantees of quality, safety and respect for the environment.
100% French manufacturing on all models.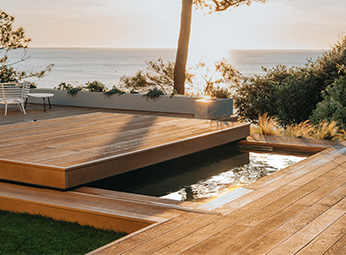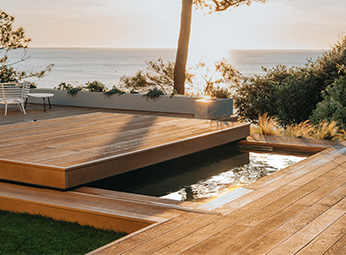 Expand your living space, with a mobile terrace
If you want to create a relaxation area on top of your pool for when you are not swimming and protect your pool from outside pollution, the mobile terrace is both a pool cover and a terrace.
Your 4 criteria for choosing an enclosure
The quality of aluminium on all our models
The profiles are rigid and resistant, as they were developed to ensure a strong resistance to climatic loads (wind/snow). The enclosures are watertight. (Sealed at the ground, and between modules, by polyamide brushes mounted on stainless steel rails.
Sealed on the façade with an elastomeric flap).
Insulating glazing
We work with unbreakable glazing that is made from 8 mm thick clear honeycomb polycarbonate sheets, with UV protection on both sides, or 2.5 to 4 mm thick transparent polycarbonate sheets, also with UV protection on both sides.
Premium finishes
Stainless steel or aluminium fastenings.
All accessories are treated against corrosion.
The dimensions of your enclosure and its aesthetics
Choose the shape that best suits your house, your land and, of course, your pool.
Safety and use
The pool must continue to be a fun, pleasant place, but safety is essential.
The installation of a pool enclosure is not a substitute for common sense and individual responsibility. It is not intended to replace the vigilance of parents and/or responsible adults, which still remains the key factor in protecting young children.
It does not exempt the user from respecting basic safety rules and applying adequate preventive measures.
All our enclosures meet NF P90-309 standards.
The rules of urban planning
The Urban Planning Code expects:
For new pools: DP(*) for an enclosure that is less than 1.80m in height.
For existing pools (received more than 3 months ago): No formalities for an enclosure that is less than 1.80 m in height (none of the enclosures that we present here exceed 1.80 m, so a building permit is not necessary)
More restrictive rules may apply:
Local Urbanism Plan, subdivision regulations.
Contact your local municipality for more information.
DP(*): Preliminary declaration
Maintenance
Cleaning the glass and aluminium structure
It should preferably be cleaned in the morning or evening: do not clean hot sheets or in strong sunlight.
Wipe any dirt off the external and/or internal parts of the lacquered aluminium profiles, and the translucent part of the enclosure, with a sponge or a cotton cloth (do not use rough products) that was previously soaked in soapy water (liquid Marseille soap mixed with fresh water, temperature below 40°C).
The following is prohibited:
the use of any detergents or cleaners other than those specified above.
the use of "scrapers", rough sponges, etc.
the use of high-pressure water jets (more than 0.2 bar) or any other jet.
It is possible that droplets may form in the honeycomb cells, or that water may be present at the bottom of the polycarbonate honeycomb sheets, with or without the appearance of green or brown algae. This natural phenomenon is due to condensation and the porosity of polycarbonate, and it occurs mainly in the autumn and spring. However, this does not affect the durability of the unit, nor does it alter the product.
Make sure the seal is in good condition. The only solution for this is to remove the aluminium profile at the bottom, lift up the tape in order to drain the water, and then apply a new one and replace the aluminium profile.
Metal accessories
The corrosive environment of the pool requires regular maintenance of the stainless steel, in order to preserve its quality. Monthly cleaning with a soft sponge or clean cloth and soapy water is essential. Moreover, an excess of sterilising products (chlorine, bromine, etc.) can cause these metallic parts to oxidise. It is advisable to have a professional check the water treatment parameters of your pool after your enclosure is installed.
Miscellaneous
As soon as you have finished cleaning the affected areas, rinse them with a sponge or cotton cloth dipped in fresh water.
Rinsing
Remember to clear off any snow. Operate your enclosure and grease the locks regularly (every 2 months).
In order not to damage the liner of your pool (e.g. liner, reinforced PVC), make sure to keep the temperature of the pool water below the values guaranteed by the manufacturer.
The addition of an enclosure will change the consumption of water treatment products, so it is advisable to have a professional check the treatment parameters to ensure that they comply with the manufacturers' recommendations.
The time frame of the guarantee, in relation to the integrity of the product and the performance of the materials, is strictly related to the normal conditions of maintenance and use, as defined above.
In order to keep your enclosure in good condition, we can ensure its maintenance: do not hesitate to contact us for more information.
Some enclosed pools created by Mondial