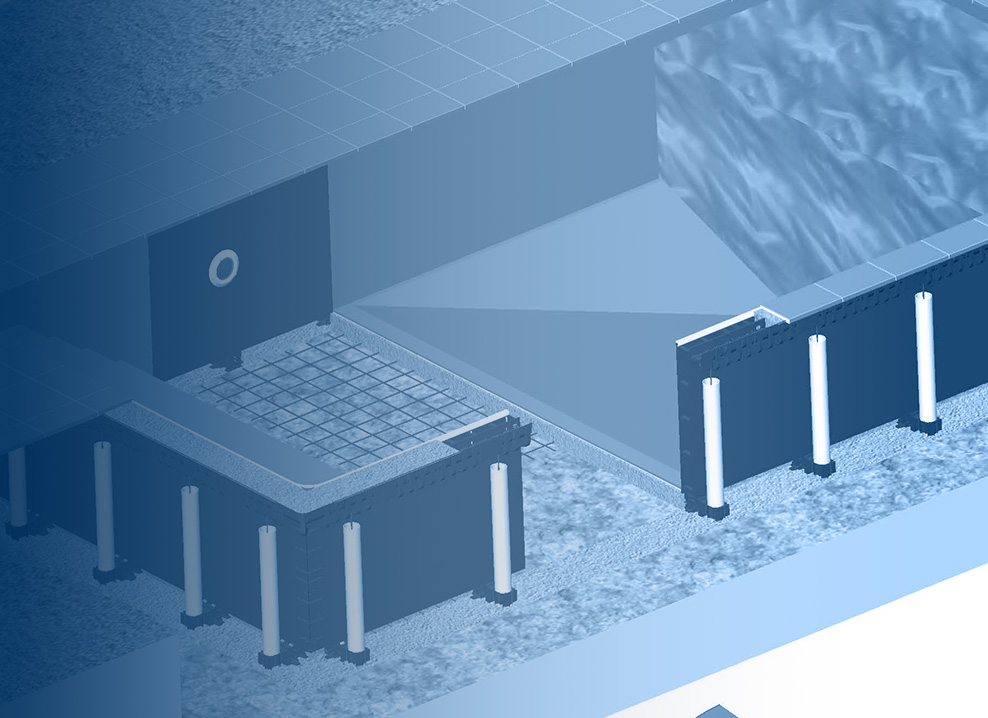 Our unique concept
for concrete pool construction

>
Mondial Piscine construction process
Based on its experience, Mondial Piscine has developed a unique pool construction process that uses formwork panels. Pre-formed in the factory for quick, easy installation, these panels guarantee resistance over time, and they allow our pool models to be highly modular.
A unique patented concept
With these formwork panels, which are made of composite materials and are 1m wide by 1.20m or 1.50m high, we can create a pool that is composed of reinforced concrete blocks. Each panel is injected on a 1700 ton press in our factories. The structure is designed for a monobloc type of chaining (bottom + walls). Once pre-assembled, it is provided with vertical and horizontal deformed steel bars. A peripheral gutter makes the unit strong and holds the edges without risk of cracking. Our panels are covered with a cleanliness film, so that, once the concrete has been poured, our construction teams just have to prepare the walls before installing the waterproofing, which not only saves a lot of time but also ensures greater cleanliness.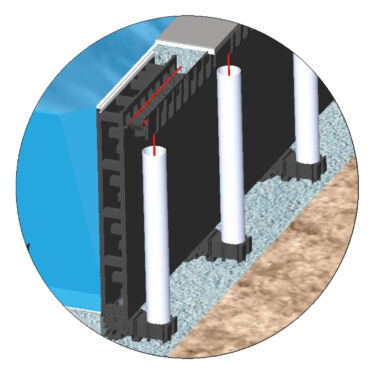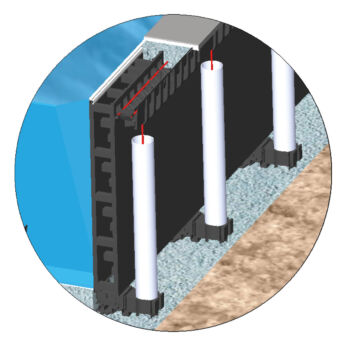 A monobloc, standalone pool
In this pool construction process, the concrete is poured in one go. In order to do this, there are two possible casting methods: either the bottom is cast first and then the panels, or, the panels are cast first and then the bottom. 
The ingenious system of reinforcement ensures that the structure is non-deformable. It is ready to receive the liner, which is firmly held in an extrusion and also anchored in the concrete structure. 
Choosing a staircase and pool shape
Constructed using the same technique as the pool, our stairs come in several different shapes, allowing you to personalise your pool. They are designed to house certain technical equipment, if necessary, and also conceal it (cover, massage nozzles, counter-current swimming, etc.).
The advantages of the Mondial Piscine process
The unique formwork block process developed by Mondial Piscine's design office guarantees that you will save on installation costs, and ensures a level of strength that will stand the test of time. Create the pool that you desire, with the multitude of technical and aesthetic choices on offer from Mondial Piscine. 
Discover all the advantages of the Mondial Piscine process and the guaranteesoffered by our company. 
Simplicity and strength: the pool that is synonymous with pleasure! 
Our formwork panels have a unit weight of 14 kilos. This facilitates their transportation from Mondial Piscine's manufacturing workshops to the installation site. Quick to assemble and easy to handle, the process does not require any struts or adjustment props, so your pool can be installed with a minimum amount of earthwork. Thanks to the Mondial Piscine process, you can save time and money, with complete peace of mind, as there is no risk of cracking when the earth settles.
The pool's reinforcement provides all the strength of reinforced concrete while providing flawless finishes; secure holding of the liner, quick installation of edging stones, integration and concealment of technical solutions, etc.
Quality that will stand the test of time: every pool meets the Specifications. 
Mondial Piscine formwork panels are made of a material called polypropylene. These composites make the panels resistant to corrosion and rot-proof, guaranteeing the longevity and quality of Mondial Piscine panels.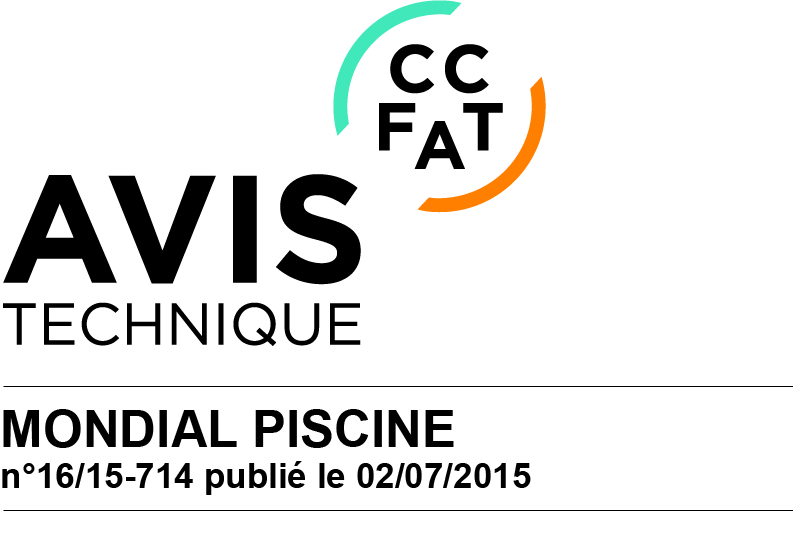 The overall structure of Mondial Piscine pools is designed to absorb the concrete without deforming it. In this way, the pool's floors, walls, stairs and upper parts are solid and completely resistant to pressure. All of these advantages allow Mondial Piscine to offer you its ten-year manufacturer's guarantee, based on a standardised process that has received the "Avis Technique" (Technical Notice) from the CSTB (Scientific and Technical Centre for Building). 
Discover the complete Mondial Piscine pool manufacturing process.
Stairs and swimming pool form a single integral block. Also, the fact that our formwork panels are modular gives your imagination free rein, allowing you to create pool shapes that are in harmony with your environment.
Have you decided to make your dreams a reality, but you don't know which pool to choose? Don't panic! Mondial Piscine will help you to find the type of pool that suits you, from in-ground pools, to indoor pools or even enclosed pools.

Pools
Mondial Piscine
You have decided to make your dream come true but you don't know which pool to choose? Don't panic! Mondial Piscine will help you to find the type of pool that suits you, between in-ground pool, indoor pool or even a pool under construction.