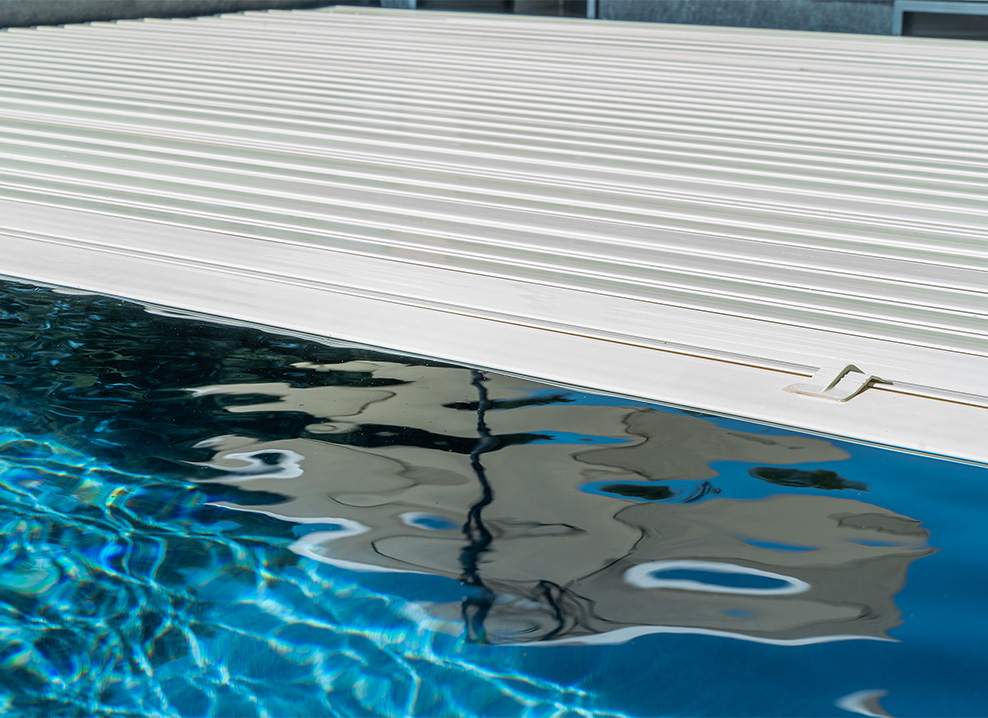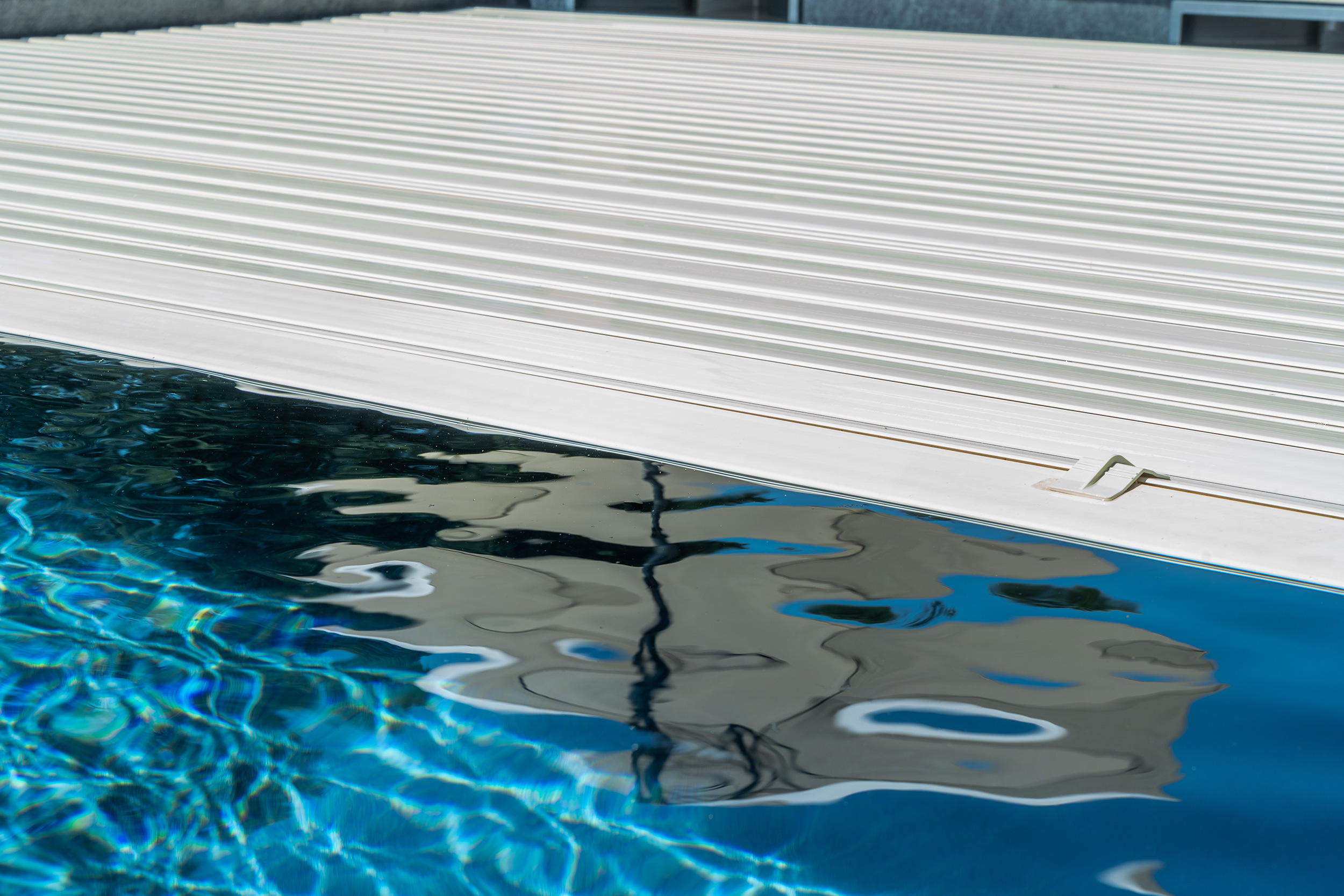 Sécuriser et protéger
sa piscine

>
PVC armé 3D Touch Élégance – Volet immergé Incognit'Ô
It is mandatory to secure your pool
In France
There are four safety devices that meet the current standards. The protective barrier (NF P 90 306), the pool alarm (NF P 90 307), the safety cover (NF P 90 308) and finally, the pool enclosure (NF P 90 309).

The current law states that owners of open-air, in-ground or semi-in-ground swimming pools, for individual or community use, are obliged to have a safety system that complies with the standards. However, safety equipment does not exempt you from being vigilant, following safety instructions and constantly monitoring your children around and in the pool. Offenders are subject to a fine of €45,000, in addition to the risk of serious accidents.

Technical focus by our pro – How to secure your pool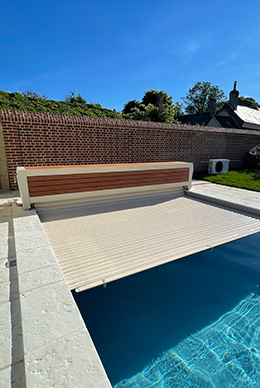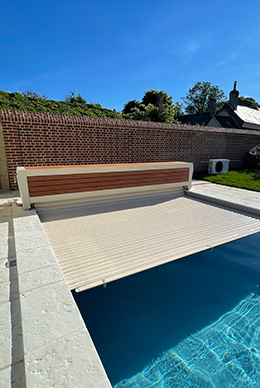 The pool safety cover
The underground or above ground safety cover, as well as the bar cover, are protection systems that have been proven to be robust, and that are designed to offer great manoeuvrability.
Beyond safety, the safety cover adds aesthetic appeal to your pool, allows you to save energy by accumulating heat during the day, and ensures the cleanliness of the water.
Mondial Piscine offers you several safety cover systems for your pool.
Discover the product sheet for the Incognit'Ô cover.
Mondial Piscine presents its Incognit'ô automatic pool cover, with opaque slats or solar collectors, which can be adapted to suit all its classic pools, as well as its mirror pool.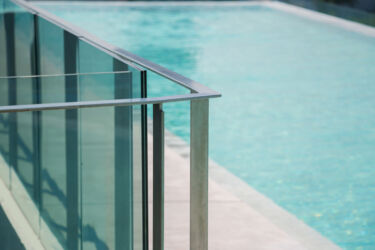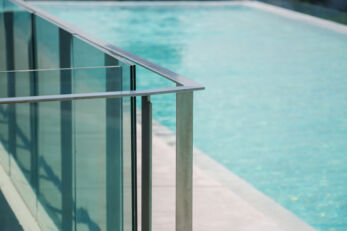 The pool safety barrier
Purpose of a barrier
The protective barrier allows children to have safe access to the pool. It must be at least 1.25 m high, in order to prevent children under five from climbing it.
Be sure to close the pool's safety barrier carefully when the pool is not in use.
What you need to know about pool safety
The law of 03 January 2003
Validated by decree n° 2003-1389 of 31/12/2003
Modified by decree n° 2004-499 of 07/06/2004
Since January 1, 2004, this law "requires owners of open-air, in-ground or semi-in-ground, unenclosed, private, individual or community swimming pools to equip them with a standardised protective device as soon as the pool has water in it, or, if the works for installing the protective device require water to be added beforehand, as soon as the work on the pool is completed. "
Since May 1, 2004, owners of residential pools for seasonal rental have had to provide a safety device that complies with standards.
Our Mondial Piscine teams will guide you in choosing your safety device.
The pool safety alarm
The pool alarm system allows you to protect your children by preventing any risk of accident. Mondial Piscine offers you two pool alarm systems:
Perimeter pool alarm
This forms an invisible perimeter barrier (infra-red beams) around your pool. Crossing it triggers the alarm, even before the child finds themselves in a dangerous situation.
The underwater alarm
This is located in your pool and it analyses movement. If someone falls into the pool, the alarm will automatically go off to warn you of an accident.
The alarm can also be used in combination with other Mondial Piscine safety systems.
Disadvantages
The alarm may be triggered unexpectedly, which may cause unnecessary worry or annoyance.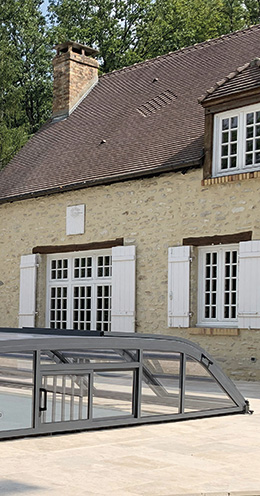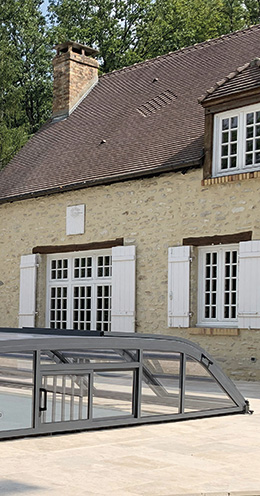 The pool enclosure
The pool enclosure ensures optimal safety for your pool. By making sure that you close the enclosure when the pool is not in use, your children will be protected from any accident. The pool enclosure must correspond to the NF P 90 309 standards, and have a secure closing system.
Multiple functions
In addition to their primary function, pool enclosures have several other functions: they allow you to enjoy your pool for longer, beyond the summer period, while also protecting your pool water from bad weather or external waste (dead leaves, pollution, soil, etc.).
By using the right cleaning products to maintain your pool, and an efficient filtration system, you can avoidwintering. In addition, the distribution of the heat that is stored by the pool enclosure will help you to save energy.
Choose from the different shapes, materials and heights of pool enclosures, following the advice of our Mondial Piscine dealers.
En savoir plus sur nos abris